Attractions
Lynton is situated on the North Devon Coast Area of Outstanding Natural Beauty, within Exmoor National Park. We highly recommend the Visit Lynton and Lynmouth Website (https://visitlyntonandlynmouth.com ) which contains loads of information on places to explore and things to do in the area.
The Valley of Rocks
One of North Devons most renowned landmarks, and almost literally on The Denes' doorstep, is the Valley of Rocks. This dry valley runs parallel to the North Devon coast and is noted for the spectacular geological formations, its wild goats, and its stunning views. https://www.visitlyntonandlynmouth.com/downloads/VLL-Valley-of-Rocks.pdf
Walking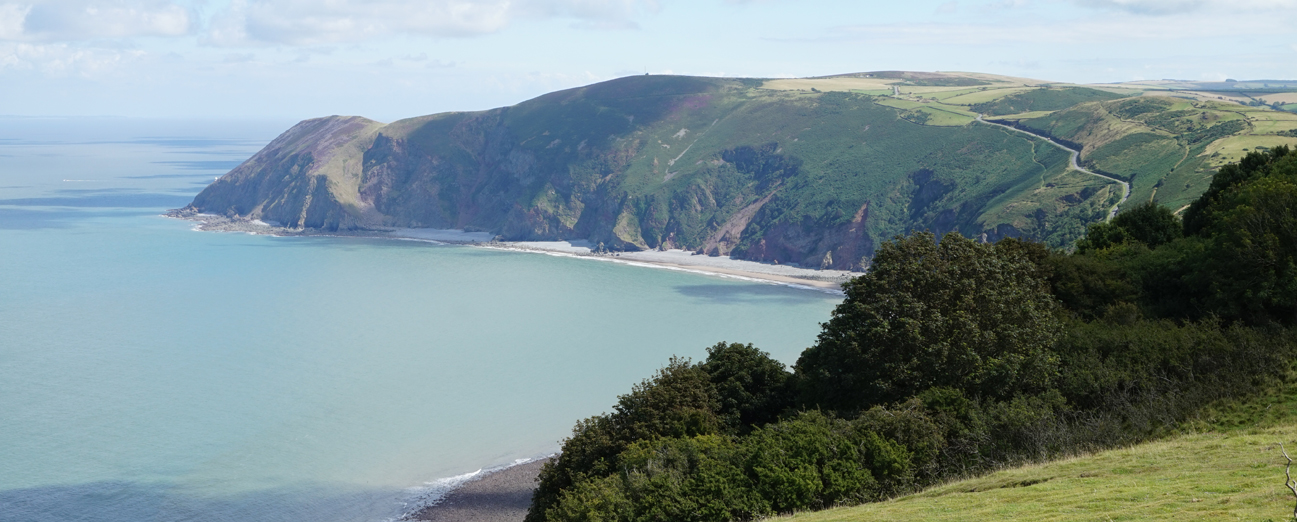 Walk through the gate across the road from The Denes, and take a 20 minute walk up Hollerday Hill to the site an Iron Age hill fort. The summit of Hollerday Hill offers a spectacular viewpoint over the Valley of Rocks and stunning views along the coast to the east and west. https://www.visitlyntonandlynmouth.com/downloads/VLL-Hollerday-Hill.pdf
Visitors can choose from a wide range of walks and cycling routes in the area, either along the coastal paths, along rivers or inland across the moors. A walk from Lynmouth along the East Lyn River to Watersmeet is thought by many to be one of the most beautiful in the area. https://www.visitlyntonandlynmouth.com/downloads/VLL-Watersmeet.pdf
Whether you are seeking a leisurely stroll or a strenuous trek, you'll find it all within easy reach. https://visitlyntonandlynmouth.com/walkers-are-welcome/
The Lynton & Lynmouth Cliff Railway
A unique experience that links Lynton and its neighbouring village, Lynmouth. Take a ride on the steepest water powered cliff railway in the world. It offers unparalleled views and is a true Victorian experience. https://www.cliffrailwaylynton.co.uk/ https://www.cliffrailwaylynton.co.uk/wp-content/uploads/2022/02/2022-Cliff-Railway-Visitor-Guide.pdf
The Lynton & Barnstaple Railway
This railway has a small section running at nearby Woody Bay Station on the A39, usually with steam engines and immaculately restored original pre 1935 carriages. Another great Victorian experience. https://www.lynton-rail.co.uk/
Lynton Cinema
Lynton is the smallest town in England to have a full-time cinema. All the films are current and there's plenty of legroom in this unique 68 seat cinema. Feature films start at 8pm each evening and bookings are made by telephone. http://lyntoncinema.co.uk/lynton/now/
Arlington Court
Only a 20 minutes' drive away is Arlington Court, once home to the Chichester family (Sir Francis Chichester being the first person to sail round the World single handed). It is also home to the National Trust Carriage Collection. The estate contains some beautiful walks and views. https://www.nationaltrust.org.uk/arlington-court-and-the-national-trust-carriage-museum
Several National Trust properties and RHS Rosemoor are within easy reach. https://www.rhs.org.uk/gardens/rosemoor
---
A whole range of activities can be pursued within Exmoor, including kayaking, fishing, climbing, bird-watching and diving. Lynton & Lynmouth offers a number of independent shops and boutiques and a choice of excellent pubs and restaurants.